What is Wrinkle Reduction Therapy?
Wrinkle reduction therapy can utilize prescription medicine (eg. BOTOX® Cosmetic) that is injected into facial muscles and used to improve the look of moderate to severe wrinkles in people 18 to 65 years of age for a short period of time (temporary).
What better person to administer your wrinkle reduction treatments than a dentist trained in the anatomy of the face and head? In our comfortable clinic, you can undergo cosmetic injections to erase or diminish frown lines, crow's feet and forehead creases in a clean, peaceful environment.
Come to our clinic to solely undergo wrinkle reduction treatment, or combine treatment with your cosmetic or restorative dentistry appointment. You can leave your visit with a more beautiful smile and youthful appearance!
How does wrinkle reduction therapy work?
Using prescription medicine, it is injected into the muscles and used to reduce the look of frown lines, forehead creases, and crow's feet. It works by reducing muscle activity that causes moderate to severe lines to form.
How long will the treatment last?
Visible results have been shown to last up to 4 months; your own results may vary – be sure to talk to your healthcare provider about what you can expect and when to schedule your next appointment.
If you are interested in wrinkle reduction therapy, BOTOX® Cosmetic treatments or have further questions, please contact us today.
Related Beauty & Aging Articles
Natural Beauty And Your Skin
In keeping with Dear Doctor's goals of education and making the right choices along with your healthcare professionals, this article will empower you with facts and the top 10 tips that you need to know to keep your skin healthy… Read Article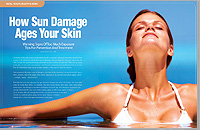 How Sun Damage Ages Your Skin
If you notice brown spots, dark patches or other changes to your facial skin as you get older, you are seeing the effects of prior sun exposure. Sun damage can take many forms – from cosmetic to cancerous. Learn what changes to look for, how to protect your skin and prevent further damage… Read Article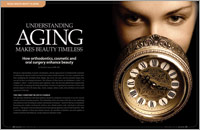 Understanding Aging Makes Beauty Timeless
Understanding growth, development, and the aging process is fundamentally important to obtaining the optimal results from facial and cosmetic dental treatment. Discover how an understanding of the aging process infl uences treatment decisions and the profound effect it can have on facial beauty during a lifetime… Read Article